Girl Scout Cookies
€230.00 – €2,100.00
 Strain Information

Buy Cali tins online in Europe –

Indica Dominant Hybrid 
– 
60% Indica / 40% Sativa
THC: 

28%, 

CBD: 

1%, 

CBN: 

1%
Girl Scout Cookies is an Indica-dominant hybrid with a strong Sativa component (40:60 Sativa/Indica ratio). This strain can reach THC levels of up to 28%, meaning it's one of the most potent strains available to medical marijuana patients. This strain provides the best aspects of both Sativa and Indica, and the high is powerful, happy, and euphoric, but with couch-lock body effects and feelings of lethargy. Girl Scout Cookies tastes sweet and earthy, and it smells much the same. It's most effective at treating anxiety, stress, and depression, though it's also good for appetite.
Dry mouth is the only likely adverse effect, though others are possible. This strain began as a crossbreed of OG Kush and a near-even hybrid; (Durban Poison X F1). Girl Scout Cookies first appeared in California and is now one of the most popular strains in North America, where sell best on the West Coast and in Michigan. The high lasts for hours, making Girl Scout Cookies a good deal in most places. It can be difficult to grow, but it's fast becoming a staple among home cultivators.
Buy Cali tins online Europe – What is Girl Scout Cookies (GSC)?
GSC, formerly known as Girl Scout Cookies, is an OG Kush and Durban Poison hybrid cross whose reputation grew too large to stay within the borders of its California homeland. With a sweet and earthy aroma, GSC launches you to euphoria's top floor where full-body relaxation meets a time-bending cerebral space. A little goes a long way with this hybrid, whose THC heights have won GSC numerous Cannabis Cup awards. Patients needing a strong dose of relief, however, may look to GSC for severe pain, nausea, and appetite loss.
There are several different phenotypes of the girl scout cookies strain including Thin Mint and Platinum Cookies, which exhibit some variation in appearance and effect. Typically, however, girl scout cookies express their beauty in twisting green calyxes wrapped in purple leaves and fiery orange hairs. Patients and consumers looking to cultivate this cannabis staple themselves should wait for 9 to 10 weeks for their indoor plants to finish flowering.
Looks: Phenomenal… Frosted as all get out and hard as rocks. Golden from trich coverage with dark greens, oranges, black/purples, and blues all coming through.
Smell: Baked cookie funk, acetone/menthol bouquet. (Like OG Kush without the lemon floor cleaner smell.)
Taste: So unique. Just like the smell. Velvety thick textured smoke that coats your mouth with the flavor and then stays there. THIN MINTS! No joke, it's very earthy and chocolatey. You will understand why this strain is called GS Cookies.
Effects: Incredibly baked! Very narcotic. Stone is strong and mostly cerebral, but has a pleasant body narcotic undertone as well. Great jamming herb.
Potency: 10/10
Girl Scout Cookies  Traits: acetone, baked cookie funk, black/purple, chocolate taste, dark green, Frosty, golden from trich, Good For Anxiety, good for hunger, Good For Insomnia, good for recreation, Good For Relaxing, good for sleep, great jamming herb, hard as a rock, menthol, orange, thin mints, Top Shelf, unique taste, velvety thick textured smoke, very earthy
Effects
Cerebral, Creative, Euphoria, Relaxing
May Relieve 
ADD/ADHD, Anxiety, Bipolar Disorder, Chronic Pain, Depression, Insomnia, Loss of Appetite, Migraines, Nausea, Stress
Flavors
Cherry, Lemon, Mint, Sweet, Woody
Aromas
Earthy, Nutty, Pungent, Spicy, Sweet, 
Vanilla
About Girl Scout Cookies
The little girls out front of the supermarket might be adorable and everything, but if you want to step up your game and dive into a flavorful, euphoric experience then these are the girls scouts cookies strain you really want. GSC (formerly known as Girl Scout Cookies) is a Cannabis Cup award-winning strain comprised of OG Kush and Durban Poison and is perfect for an after-dinner treat or a nightcap.
Girl Scout Cookies strain
Girl scouts cookies are also sometimes known as Berner Cookies or Berner's Cookies, after cannabis mogul and rapper Berner (whose real name is Gilbert Millam, Jr). A San Francisco native, Berner lays claim to originating the strain with a growing collective that's become known as Cookie Fam. A master of branding, Berner shot Cookies into the mainstream when he got his product into the hands of no less than Wiz Khalifa. It has since become a staple strain across the U.S.
By crossing two super popular strains, the underground breeding collective Cookie Family (or Cookie Fam) has been able to elevate THC levels to a whopping average of 25% to 28% and boast CBD and CBN contents to 1% as well. If that wasn't enough to entice you, then the flavor and aroma will definitely draw you in. At the first opening of the bag the sweet, earthy aromas hit your nose and only grow sweeter as you break apart the buds. The smoke of this strain is dessert-like and will certainly endear you to these light green and purple-hued buds. The fiery orange hairs and bright purple leaves make it just as pleasing to the eye as it is to the palate.
Girl Scout Cookies strain
The GSC high catapults you into a wave of euphoria and tingles that encapsulate your body with very little effort. These ultra-powered buds will have you questioning space and time, while utterly gluing you to your seat. The couch lock on this is real, as are the munchies, so be sure to have a box of actual girl scout cookies handy for good measure. Throughout the hours-long high, you'll experience waves of giddiness that might have you in minor giggle fits, though that will ebb and flow into introspection from time to time. This is an engaging high that will certainly have you feeling creative, but try as you might, you probably won't have any motivation to get anything done.
GSC has some incredibly powerful effects that are beneficial to the medical community in numerous ways. First and foremost, this is a great strain for treating chronic pain, inflammation, muscle tension, and cramps. Its highly sedative properties will have you feeling relief in no time. Additionally, many use this strain as a stress reliever. The tranquilizer-like feeling of this bud puts you in a place of complete relaxation, slaying stress and even getting you ready for a good night's sleep.
Girl Scout Cookies strain ( GSC )
Growing techniques for this plant vary depending on who you ask, however, Cookie Fam suggests SOG indoors with either a soil or hydro setup. The flowering time on this plant is around 10 weeks or until the buds are plump and plentiful. The yield of this plant is about average, though in really stellar conditions you might be able to squeeze out a bit extra.
There are several phenotypes of this strain that include other clever plays on the plant's former name. Such as Thin Mint and Platinum Cookies, however. GSC stands out from the pack with its bright purple leafiness and twisting greenery. Additionally, the THC content of this variation truly makes it a one-of-a-kind experience.
Can't tell the difference between White Widow and Purple Urkle? Wondering what exactly's in the Blue Dream you just smoked? We've created detailed profiles for each of the most popular. Sought-after weed strains, in order to help cannabis users everywhere, understand the different plants. They're smoking, eating, or otherwise consuming. Up next: Girl Scout Cookies.
Lineage girl scout cookie
Florida OG Kush x F1 Durban
Place of origin
The Bay Area of Northern California is where the Cookie hype began in the early 2010s. Popularized by rapper Berner and his crew (now known as the "Cookie Fam" due to the strain's reputation). Girl Scout Cookies is currently one of the most prolific and highly coveted varieties on dispensary shelves nationwide.
Approximate THC content
High (20%-25%)
What to expect
Cookies are a powerful strain but feel like a true hybrid. Riding the line between the relaxation of an indica and the social invigoration of a Sativa. It's a conversation-starter, making most users distinctly social, chatty, and happy, while also keeping them largely couch-bound. It's a great strain for a card game or watching a funny TV show because it definitely improves mood and is best suited to more sedentary activities.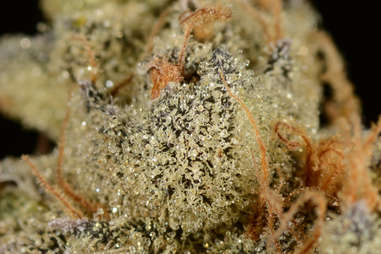 How to spot it
Cookies are generally a mix of gray-green and purple colors. And are one of the frostiest varieties you'll encounter, looking almost silver in their finished form. The flowers are super dense and very much on the small side, but have hardly any leaves at all.
Smell/Flavor
The strain's name comes from the flavor. Which was thought to taste much like the. "Thin Mints" variety of Girl Scout cookies because of its minty chocolate finish. It's not a sweet strain by any means. But it definitely has sweeter elements hidden in the dark, slightly skunky. OG Kush-dominant terpene profile. Most users who like OG Kush or Bubba Kush varieties tend to also like Cookies.
| | |
| --- | --- |
| Quantity | 28grams (1Oz), 112grams (4Oz), 224grams (8Oz)(1/2lb), 448grams(16Oz)(1Lb) |